ASIA-SEPTEMBER 7, 2018
Air India flight #AI263 landed on non-operational runway at Male Velana International Airport in Maldives on 7 Sept, 2018.
The Airbus A320 flight #AI263, from Chennai via Trivandrum in South India, mistakenly landed on a runway which is under construction in Velana International Airport at 3.26pm.
All 136 passengers and 7 crew were evacuated safely, but the plane got stuck on the runway as one of its tires was deflated.
Air India tweeted referring to the incident read, "On the issue of the recent incident on AI263 from Chennai to Male, where the pilot refused to fly without a particular co-pilot, the airline has taken a strong view on the matter and has ordered an immediate inquiry"….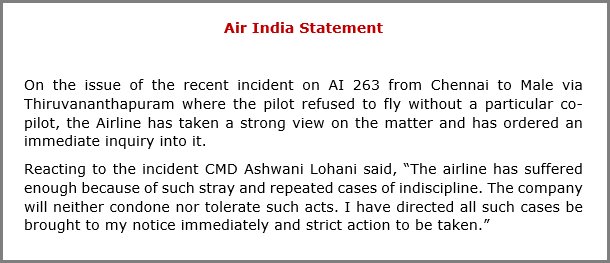 http://newsinflight.com/2018/09/07/air-india-a320-flight-ai2163-landed-on-the-non-operational-runway-at-male-velana-international-airport/